Baked Salmon Fillet Recipe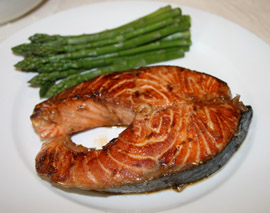 This is a truly wonderful baked salmon fillet recipe that is so incredibly quick and easy to prepare. I wish I had the right adjectives to describe the taste – it is simply out of this world, completely and utterly sublime, scrumptious and delicious.
Salmon is so incredibly healthy and is simply bursting with goodness in the form of omega 3 essential fatty acids which protect us against cancers as well as being essential for heart and brain health.
While looking through quite a few salmon steak recipes, since I had salmon steaks to cook, I got the idea to use teriyaki sauce – which I just love – and so this teriyaki salmon recipe was born. This recipe also makes the best grilled salmon recipe out and you could even grill it on a wooden plank (soaked in water for a few hours) which will impart a wonderful smoky flavour. You could use cedar or any hardwood grilling plank which can be found in some supermarkets or hardware stores.


Teriyaki Salmon Recipe
Serves 4

Ingredients

4 salmon fillets or steaks
4T (60ml) soy sauce
4T (60ml) mirin - see cooks notes.
1t (5ml) fresh root ginger, grated
1½t (7.5ml) sugar or xylitol or 1t (5ml) fructose
Instructions
1. To make the teriyaki sauce, mix the soy sauce, mirin, ginger and sugar together in a bowl.
2. Place the salmon fillets or steaks in an ovenproof dish and pour the teriyaki sauce over the salmon, making sure it is well coated.
3. Marinade for about 30 minutes, turning the salmon after 15 minutes and recoating with the marinade.
4. Bake the salmon at 180ºC (350ºF) for 10 – 15 minutes or until the fish flakes easily with a fork. The salmon is baked in the teriyaki sauce.
5. Alternatively, place the salmon and teriyaki sauce in a heavy-based pan and "bake" the fish in the pan with a lid on for about 10 minutes or until the fish flakes easily.
6. If you are going to grill the salmon, preheat the grill to medium-high and cook for 10 – 15 minutes over an indirect heat.
Cooks Notes
Mirin is a sweet rice wine that is used in Japanese cooking. It is available at Asian stores and some good supermarkets.
It is very important not to overcook the salmon as it will become dry. Salmon should rather be slightly undercooked rather than overcooked, but I am confident that you will get it just right.
I really hope that you and your family love this wonderfully healthy and delicious baked salmon fillet recipe as much as we did.
Would You Like To Be Part Of
This Site?
Why not become part of thie Healthy Eating Website! All you do is tell your foodie story or share your favourite recipe here!
Your story becomes a whole page on this site and part of the healthy eating blog (which shows the site's most recent pages). So become a permanent part of Healthy-Family-Eating.com so others can read, learn and grow from your input! And I'll tweet your Web page at my Twitter account, too!

Come on... join in and have some fun!
Return from Baked Salmon Fillet Recipe to Easy Fast Dinner Recipes


Check out more great salmon recipes!
Return from Baked Salmon Fillet Recipe to Healthy Family Eating Home Page