Healthy, Easy Fast
Dinner Recipes
It is always so wonderful to find easy fast dinner recipes that are really tasty and nutritious too. We all live such busy lives these days and don't have the luxury of spending hours in the kitchen creating gourmet meals. We want delicious healthy food that can be prepared in no time at all.


Family Mealtimes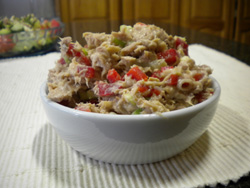 Dinner time is a very important and special time of the day. I think it is especially important for the whole family to sit around the dinner table together and talk about the day - because quite often the family hasn't seen each other since after breakfast. This time is especially important for children to feel re-connected with their parents and possibly voice certain concerns and get advice about things that are happening in their lives.
Studies have shown that children who have a regular family mealtime are much less likely to smoke, drink, use illegal drugs and get into fights. They are more likely to do well at school, have healthier eating habits and have less suicidal thoughts. This is because children who experience a strong family bond - which regular family mealtimes helps build – are emotionally content.

I found it absolutely amazing to learn that regular family mealtimes is the single strongest predictor of good behaviour and good academic achievement – regardless of family size, income, race, gender and education.
A great way to get the family talking is to let each family member have a chance to talk about his/her day and to remember past family holidays or other memorable occasions. Children always love to hear family stories about when they were younger or when the parents were younger. I challenge you to embrace the chance of spending quality family time together around the dinner table – or any other meal of the day – and see what an amazing difference it makes in your life and in the life of your children.
I have collected and created quite a few quick recipes for supper that really work for me and I am delighted to share them with you!


Quick Easy Dinner Recipes
Here is a list of my favourite healthy, easy fast dinner recipes that I'm sure you will love too.






Salmon Patties
- Delicious easy dinner recipes for kids that are healthy and convenient are hard to come by! This is a deliciously easy fish cake recipe embraces the convenience of canned salmon and beans. Your whole family will be crazy about this one.

Teriyaki Chicken
- Nothing beats simple chicken recipes! Here's a easy dinner recipe idea that's an incredibly flavourful and healthy meal your whole family will absolutely love.




I love all of these quick dinner recipes and the knowledge that I'm giving my family something incredibly nutritious and delicious that I can whip together so quickly is wonderfully satisfying. I do hope you enjoy trying these easy fast dinner recipes and that they give you great satisfaction too.
Would You Like To Be Part Of
This Site?
Why not become part of the Healthy Eating Website! All you do is share your easy fast dinner recipes or any other favourite recipe right here!
Your recipe becomes a whole page on this site and part of the healthy eating blog (which shows the site's most recent pages). So become a permanent part of Healthy-Family-Eating.com so others can read, learn and grow from your input!



Do you have an easy fast dinner recipe? Share it!
What Other Visitors Have Shared
Click below to see contributions from other visitors to this page...

Quick Chicken Recipes - Healthy Italian Chicken

Quick chicken recipes are my go to dinner plan when I haven't actually planned anything! One of my kids favorites is my healthy Italian chicken - 2 ingredients …
Return from Easy Fast Dinner Recipes to Healthy Family Eating Home Page