Best Teriyaki Sauce Recipe
This teriyaki sauce recipe is so incredibly delicious and versatile.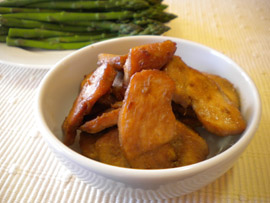 If you have ever wondered how to make teriyaki sauce then you will be really happy to know that it is incredibly quick and easy to make. If you don't have fresh root ginger you can leave it out, but I love the wonderful flavour it imparts to the sauce. This delicious teriyaki marinade is such a trusty favourite of mine as it transforms any bland piece of meat into a feast for the senses for young and old alike.
This teriyaki marinade (or sauce) can be used in so many ways – I love it with chicken and beef strips. It makes the most delicious stir-fry sauce and it also tastes great with plain egg noodles or rice and I've even used it as a delicious dipping sauce for sushi.
Teriyaki Sauce Recipe
The quantity that this teriyaki sauce recipe makes is enough for about 500g of meat which can be marinated in the sauce for between 30 – 60 minutes or even just used right away if you don't have time. Mirin is a sweet rice wine that is used for cooking that can be found in Asian food stores.

Ingredients
3T (45ml) soy sauce or tamari (which is a wheat free soy sauce)
3T (45ml) mirin
1t grated fresh root ginger
1t sugar or xylitol or 3/4t fructose
Instructions
1. Combine all the ingredients together in a bowl and mix together.
Larger Quantity Teriyaki Marinade Recipe


Here is a recipe that makes a larger quantity of the teriyaki marinade (or sauce) that you can store in a clean glass jar in the fridge and use when needed.





Ingredients
1/2c (125ml) soy sauce (or tamari which is a wheat free soy sauce)
1/2c (125ml) mirin (sweet rice wine available at Asian food stores)
1T (15ml) grated fresh root ginger
1T (15ml) sugar or xylitol or 2t (10ml) fructose
Instructions
1. Combine all the ingredients together in a saucepan and stir well.
2. Bring the mixture to the boil and simmer gently for about 4 minutes.
3. Cool the mixture and then pour into a clean glass jar and store in the fridge.
Cooks Notes:
If you don't intend to bottle the teriyaki sauce, there is no need to cook it - simply add all the ingredients together and use it just like that.
Care to Share?
If you have a great tasting healthy recipe that you would like to share on this website, please click on this
care to share?
link to submit your recipe. I am always so happy to get new and exciting healthy recipes.
Please note that all your details will remain completely confidential. I not give them away to anybody and will contact you personally in order to receive your permission to use your recipe on this website.

Thanks for your support!

Return from Teriyaki Sauce Recipe to Easy Fast Dinner Recipes

Return to Healthy Family Eating Home Page