Looking for a Healthy Muffin Recipe?
I just love a good healthy muffin recipe! I think muffins are just great because most of them are really quick and easy to make and can be a delicious alternative to a slice of bread or toast for a quick meal or snack.


I have put together a collection of some of my favourite muffin recipes that are pretty wholesome and easy enough for first-time bakers to conquer with ease. They are really quick to make too, so you can whip up a batch in no time.
Muffins have really increased in popularity and I've tried to put a healthy spin on some of the recipes I've come across by decreasing the amount of sugar, adding some whole-wheat, bran or oats. The addition of fruit – fresh or dried - can also add in some extra vitamins and minerals.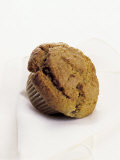 Most of the recipes are pretty adaptable so you can play around with them, be creative and get really good results.
Muffin Making Tips:
The secret to successful muffins is in the mixing. They are quick to mix and bake quickly too.
There are 2 kinds of muffins: stirred and creamed muffins.
1. Stirred muffins are
amazingly easy to make. Everything is kind of thrown into the mixing bowl and stirred together.
mixing is kept to an absolute minimum – under-mixing rather than over-mixing is the order of the day.
2. Creamed muffins
Taste more like cupcakes and the method of making them is the same.
You would first cream together the butter and sugar, then add the eggs and then dry ingredients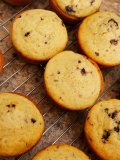 I much prefer the idea of banging everything together. It's quick and easy which is what busy parents like us are looking for. The muffins made this way also tend to be the healthy muffin recipes – so it's an all-round winner!
A regular sized muffin will generally bake at between 180ºC (350ºF) and 200ºC (400ºF) for about 20 – 25 minutes. You can fill the greased muffin tins or paper cups about 2/3 full, but you can experiment and see what suites your needs and taste.
Almost all muffins freeze fantastically well. I just put mine into plastic bags (I tend to pack a bag of 6) and freeze till I need them. They defrost really quickly too, so you can take them out and leave them just like that to thaw or pop them into the microwave for a few seconds to defrost and warm up again….its as if they've just come out of the oven! Yummy!


Healthy Muffin Recipe List
I hope you'll enjoy using these healthy muffin recipes. I dare you to try them. You can use them as a healthy addition to a quick breakfast, pack them as a healthy lunch idea or snack for work or school, use them as an in-between-meal snack or even an accompaniment for a morning or afternoon tea! They are so tasty and versatile…and healthy too. Our banana muffin recipes can even be used as a way to lower blood pressure naturally!


Yummy Muffins Galore
Why not brag a bit by sharing your delicious and healthy recipe...mmm!

There will be a whole page devoted to your yummy recipe, so feel free to give us all the juicy details and you can even include a photo.
So go on, don't be shy...our mouths are already watering!

Subscribe and Receive a Free Recipe Book!If you would like to be kept in the loop about what's happening on this website, please subscribe to Simply Healthy, my free e-zine.
Included in your subscription is a great printable muffin recipe book that has some delicious and healthy muffin recipes that are so quick and easy to make.
Simply fill in your name and e-mail address below, then click on "subscribe".


Return from Healthy Muffin Recipes to Healthy Family Eating Home Page