How About A Healthy Blueberry Muffin Recipe or Two?
---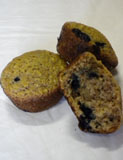 How about a blueberry muffin recipe that you can make with ease and confidence - and with the added benefit of actually being good for you! Well, I'm confident that you'll find just what you're looking for here.

Blueberry Muffins are a firm favourite, but are often very unhealthy because of the refined flour, high fat and sugar content in them. I've given each blueberry muffin recipe a healthy spin by adding whole wheat flour and oats with the minimal amount of fat and sugar making them low-fat, heart healthy, and packed with nutrients. Please do try these guilt-free recipes - I'm sure you and your family will love them.
---
Click here for more more healthy muffin recipes.
---
Blueberries are a fantastic superfood packed with antioxidants and phytonutrients are high in potassium and vitamin C. They are a powerful anti-inflammatory and can help lower the risk of heart disease and cancer.
Here are some really deliciously healthy blueberry muffin recipes for you to try at home.


These muffins (pictured above) are very moreish and definitely worth a try. Besides being delicious, they are incredibly quick and easy to make.
Makes about 18 regular sized muffins

Ingredients:
375ml (1 1/2c) whole wheat flour
200ml (3/4c) brown sugar
60ml (1/4c) oat bran
125ml (1/2c) rolled oats/oatmeal
5ml (1t) baking powder
5ml (1t) bicarbonate of soda (baking soda)
1.25ml (1/4t) salt
375ml (1 1/2c) low-fat milk or buttermilk
1 egg
30ml (2T) vegetable oil
1 large or 2 small bananas, mashed
5ml (1t) vanilla extract or essence
250ml (1c) blueberries
Directions:
1. Preheat the oven to 180ºC (350ºF).
2. Add all the dry ingredients together in a mixing bowl.
3. Add the milk, egg, oil, vanilla and mashed banana and stir till just combined.
4. Add the blueberries and stir very gently, taking care not to break them.
5. Bake for about 20 minutes or until done.


Variations:
Add 125ml (1/2c) chopped walnuts or pecan nuts for a delicious nutty crunch.
Substitute the mashed banana for 1 grated apple.

Makes about 12 muffins

Ingredients:
250ml (1c) whole wheat flour
10ml (2t) baking powder
2ml (1/2t) salt
2ml (1/2t) ground cinnamon
125ml (1/2c) brown sugar
200ml (3/4c) rolled oats/oatmeal
1 egg
310ml (1 1/4c) milk
60ml (1/4c) vegetable oil
250ml (1c) frozen/canned blueberries, well drained. You could also use fresh blueberries
Directions:
1. Preheat the oven to 180ºC (350ºF).
2. Add all the dry ingredients into a mixing bowl.
3. Add the milk, egg and oil and stir until just combined.
4. Gently stir in the blueberries. If you stir too much they will break and the colour will run giving you bluey-purple muffins.
5. Spoon the mixture into a greased muffin tray and bake for about 20 minutes until done.


Would You Like To Be Part Of
This Site?
Why not become part of thie Healthy Eating Website! All you do is tell your foodie story or share your favourite recipe here!
Your story becomes a whole page on this site and part of the healthy eating blog (which shows the site's most recent pages). So become a permanent part of Healthy-Family-Eating.com so others can read, learn and grow from your input! And I'll tweet your Web page at my Twitter account, too!

Come on... join in and have some fun!
Eating healthy food is essential for better health! Find more great
heart healthy foods
here and more great tasting
free healthy recipes
here.


Return from Blueberry Muffin Recipe to Healthy Muffin Recipes

Return from Blueberry Muffin Recipe to Healthy Family Eating Home Page