Best Ground Beef Recipes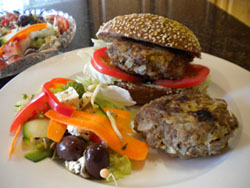 I have put together a collection of my best ground beef recipes that are nutritious and tasty. We all love to discover delicious and simple ground beef recipes, so when I find one that is easy to make and that my whole family loves, I hold onto it and use it over and over again.
Ground beef is so versatile. It can be used it in so many ways – from making meat balls, burgers, casseroles, curries, meat loaf and bolognaise!
I prefer to use lean ground beef to minimise our saturated fat intake. I often substitute ground beef for ground venison which can be very similar in taste and is much lower in saturated fat. You could also use ground lamb instead of beef.
A great way to make sure you don't get any undesirable cooked lumps of ground beef is by using a fork or wooden spoon to squash out all the lumps as you are browning the mince in the pan. That will ensure that you have a wonderful lump-free dish.
Here is a list of my best easy recipes for ground beef. Just click on the link to get the recipe:
Would You Like To Be Part Of
This Site?
Why not become part of the Healthy Eating Website! All you do is share your best ground beef recipes or any other favourite recipe right here!
Your recipe becomes a whole page on this site and part of the healthy eating blog (which shows the site's most recent pages). So become a permanent part of Healthy-Family-Eating.com so others can read, learn and grow from your input!




Do you think you have the best ground beef recipe? Share it!

Subscribe and Receive a Free Recipe Book! If you would like to be kept in the loop about what's happening on this website, please subscribe to Simply Healthy, my free e-zine.
Included in your subscription is a great printable muffin recipe book that has some delicious and healthy muffin recipes that are so quick and easy to make.
Simply fill in your name and e-mail address below, then click on "subscribe".


Return from Best Ground Beef Recipes to Healthy Family Eating Home Page