Scrumptiously Healthy Banana Muffins with Bran
These healthy banana muffins are my all time favourite! I just love this muffin recipe. I have given it to so many people over the years as everybody just loves them. I think it is pretty much flop-proof so anyone who has never baked before can make these with such ease.



For a bit of variety you can try adding some nuts or different seeds and raisins. You could even try adding some dried apricots cut into little pieces or try a mixture of grated apple and mashed banana. The options are endless.

These muffins are really healthy snacks for kids and can become part of your breakfast recipes collection too as they can be a great addition to a quick healthy breakfast - just grab one on the run.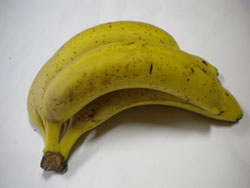 I don't konw about you, but I often have bananas that have become over-ripe and am always looking for banana recipes so that I can use up my over-ripe bananas. This is a great recipe for using those ripe bananas. I've even discovered that I can put my ripe bananas in the freezer and use them when I need them.


Banana Bran Muffins

Makes about 24 muffins

Ingredients:
3 eggs
250ml (1c) brown sugar
60ml (¼c) canola oil
560ml (2¼c) milk (you may need a bit more)
12,5ml (2½t) bicarbonate of soda
Pinch of salt
125ml (½c) pumpkin seeds
125ml (½c) sunflower seeds
125ml (½c) desiccated coconut
4 bananas, mashed
625ml (2½c) whole-wheat flour
500ml (2c) digestive bran
Directions:
1. Preheat the oven to 200ºC (400ºF)
2. Mix the sugar & eggs together, then add the oil and milk.
3. Add all the dry ingredients and mix together. You may need to add some extra milk to get a good consistency. It mustn't be stiff at all.
4. Spoon the mixture into the muffin trays.
5. Bake for about 20 minutes/until done.
Enjoy it! I really hope that you love this recipe as much as I do.


More Healthy Banana Muffins
Here is a list of some more banana muffin recipes for you to try. They are all really easy to make and taste delicious.
Would You Like To Be Part Of
This Site?
Why not become part of the Healthy Eating Website! All you do is share your favourite recipes right here!
Your recipe becomes a whole page on this site and part of the healthy eating blog (which shows the site's most recent pages). So become a permanent part of Healthy-Family-Eating.com so others can read, learn and grow from your input! And I'll tweet your Web page at my Twitter account, too!

Come on... join in and have some fun!

Subscribe and Receive a Free Recipe Book!If you would like to be kept in the loop about what's happening on this website, please subscribe to Simply Healthy, my free e-zine.
Included in your subscription is a great printable muffin recipe book that has some delicious and healthy muffin recipes that are so quick and easy to make.
Simply fill in your name and e-mail address below, then click on "subscribe".




Return from Healthy Banana Muffins to Healthy Family Eating Home Page

Return from Healthy Banana Muffins to Healthy Muffin Recipes