Walnut and Banana Muffin Recipe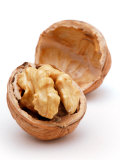 This walnut and banana muffin recipe is a creamed muffin – which means that the sugar and butter or oil is creamed together first, then the eggs are added.
I've made this recipe healthier by adding some whole wheat flour instead of using only cake flour. I would also use canola oil instead of butter because canola oil is a polyunsaturated (healthier) fat whereas butter is a saturated (unhealthy) fat. There is also an option to use water instead of milk which of course would be the healthier option there.
Bananas are our best source of potassium which is an essential mineral for maintaining normal blood pressure and heart function. Walnuts are an excellent source of Vitamin B6 which is very important in maintaining a healthy immune system as well as protecting us against cancer and infection.
You can happily add this recipe to your banana recipes or banana muffins collection knowing that they are good for you and your family.



Walnut and Banana Muffins
This recipe makes about 12 regular sized muffins

Ingredients
125ml (1/2c) cake flour
250ml (1c) whole wheat flour
60ml (1/4c) canola oil or melted butter
60ml (1/4c) low-fat milk or water
1 large egg
5ml (1t) salt
5ml (1t) vanilla extract or essence
5ml (1t) bicarbonate of soda (baking soda)
5ml (1t) baking powder
250ml (1c) mashed banana
125ml (1/2c) chopped walnuts
Directions

1. Preheat the oven to 180ºC (350ºF).
2. Cream the sugar and oil (or butter) together.
3. Then add the egg and vanilla and stir.
4. Add the mashed banana.
5. Sift the dry ingredients together into a bowl – you won't be able to truly sift the whole wheat flour, so you can add it just like that.
6. Add the sifted dry ingredients and whole wheat, alternating with adding the milk.
7. Add the walnuts and stir until just combined.
8. Spoon the mixture into the muffin trays.
9. Bake for 15 – 20 minutes, until done.



Would You Like To Be Part Of
This Site?
Why not become part of thie Healthy Eating Website! All you do is tell your foodie story or share your favourite recipe here!
Your story becomes a whole page on this site and part of the healthy eating blog (which shows the site's most recent pages). So become a permanent part of Healthy-Family-Eating.com so others can read, learn and grow from your input! And I'll tweet your Web page at my Twitter account, too!

Come on... join in and have some fun!
Return from this Walnut and Banana Muffin Recipe page to Healthy Muffin Recipes
Return from this Walnut and Banana Muffin Recipe page to Healthy Family Eating Home Page