Moist Carrot Muffin Recipe
I got this scrumptious carrot muffin recipe from my Grandmother many years ago. This is one of her favourite muffin recipe as it is so tasty and moist. They make the most delicious healthy carrot muffins!






The carrots are a great vitamin punch with their Beta-Carotene which is a powerful antioxidant, vitamin C and the B-complex vitamins. Cinnamon is wonderful for stabilising blood sugar, the pecan nuts contain healthy polyunsaturated fats and the apple contains vitamins A, C and B vitamins.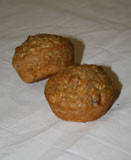 If you are looking for tasty carrot recipes, then this is a really great one. You can feel good knowing that something that tastes so good has wonderful health benefits too.
Granny's Carrot Muffin Recipe
This recipe makes about 18 regular sized muffins
250ml (1c) cake flour
250ml (1c) whole wheat flour
10ml (2t) baking powder
10ml (2t) cinnamon
1ml (1/4t) salt
250ml (1c) sugar
125ml (1/2 c) chopped walnuts or pecan nuts
125ml (1/2c) raisins
125ml (1/2c) coconut
3 eggs
60ml (1/4 c) oil
250ml (1c) water
60ml (1/4c) low-fat milk
1 apple, grated
500ml (2c) grated carrots
1. Preheat the oven to 180ºC (350ºF)
2. Sift the dry ingredients together in a mixing bowl
3. Stir in the sugar, nuts, raisins and coconut
4. Add the eggs, oil and water and stir until just combined
5. Add the rest of the ingredients and stir until just combined
6. Spoon into the muffin trays and bake for 20 – 25 minutes, until done
Enjoy them!
Would You Like To Be Part Of
This Site?
Why not become part of the Healthy Eating Website! All you do is share your favourite recipes right here!
Your recipe becomes a whole page on this site and part of the healthy eating blog (which shows the site's most recent pages). So become a permanent part of Healthy-Family-Eating.com so others can read, learn and grow from your input! And I'll tweet your Web page at my Twitter account, too!

Come on... join in and have some fun!
Return from Carrot Muffin Recipe to Healthy Muffin Recipes
Return to Healthy Family Eating Home Page