Tantalisingly Tasty Teriyaki Chicken Recipe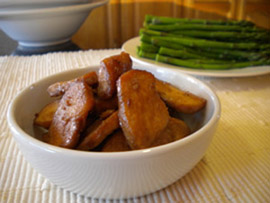 This is in my opinion, the most delicious, easy and healthy teriyaki chicken recipe ever. My whole family loves this meal which is simply bursting with flavour and very low in saturated fat. The flavourful yet simple teriyaki sauce recipe breathes life into this simplest of simple chicken recipes.


Teriyaki Chicken Recipe
This is one of the most simple chicken recipes that I have every made. It tastes so good that anybody would think you have spent hours preparing this meal…but don't go giving yourself away now.

Serves 4

10ml (2t) olive oil
500g chicken breast fillets, cut into strips
1 quantity teriyaki sauce – click on the link to get the teriyaki sauce recipe.
1. Pour the teriyaki sauce over the chicken strips and let it marinade for about 30 minutes. If you don't have time to let it marinade you can simply toss the chicken in the sauce and cook them straight away.
2. Pour the olive oil into a non-stick pan (or any pan you have) and heat slightly.
3. Place the chicken strips in the pan and pour over the rest of the teriyaki sauce.
4. Cook over a moderate heat, turning occasionally, until done. I like to put a lid on the pan which allows it to steam-fry and remain tender and most without burning. I take the lid off just before the chicken is cooked through which allows most of the juices to cook away and the chicken to brown slightly.
5. Serve with rice, whole wheat noodles, mung been or rice noodles and steamed vegetables or a salad.
Care to Share?
If you have some wonderful quick easy chicken recipes that you would like to share on this website, please click on this
care to share?
link to submit your recipe. I am always so happy to get new and exciting healthy recipes.
Please note that all your details will remain completely confidential. I not give them away to anybody and will contact you personally in order to receive your permission to use your recipe on this website.

Thanks for your support!

Return from Teriyaki Chicken Recipe to Easy Fast Dinner Recipes

Return to Healthy Family Eating Home Page