Cath's Wholesome Vegetable and Bean Soup Recipe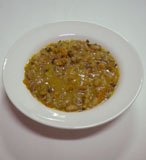 This bean soup recipe is my all time favourite at the moment because it is such a wonderfully healthy and complete meal which is crammed full of delicious healthy vegetables.
Eaten with a slice of whole wheat or rye bread, this meal is packed with vitamins and minerals and provides all the protein and carbohydrates you need - and if you're using olive oil, it provides a good fat too. Bean soup is of course a great source of dietary fiber too which keeps our intestines healthy and helps reduce blood cholesterol levels.

Vegetable and Bean Soup
Ingredients
500g dried sugar beans or dried beans of your choice.
2 or 3 onions, chopped.
200g back bacon trimmed of excess fat.
1 or 2 potatoes, diced or coarsely grated.
5 large carrots, sliced of coarsely grated.
6 celery sticks and tops, sliced.
1½ litres vegetable or beef stock – I use a combination of the two.
500ml (2c) water.
60ml (1/3c) pearl barley.
Dash of soy sauce.
Dash of Worchester sauce.
Directions

1. Soak the beans in water overnight or pour boiling water over the beans and let them soak for a few hours.
2. Fry the onions in a bit of olive oil. Add a little bit of water to allow it to steam fry with the lid on.
3. Add the bacon and cook.
4. Add the soaked beans, pearl barley, stock and water.
5. Simmer on low heat for about 2 hours.
6. Add the veggies, soy & Worchester sauce and simmer for another hour of so until everything is soft.
7. If you like you can mash it a bit to break everything up. This will also help the soup to thicken nicely.

Serve up and enjoy!
I'd love to hear from you if you have a delicious soup recipe you would love to share of if you simply loved this one, so please contact me. or even better, click on the "share your favourite recipe" link below and build your own web page on this site!


Would You Like To Be Part Of
This Site?
Why not become part of thie Healthy Eating Website! All you do is tell your foodie story or share your favourite recipe here!
Your story becomes a whole page on this site and part of the healthy eating blog (which shows the site's most recent pages). So become a permanent part of Healthy-Family-Eating.com so others can read, learn and grow from your input! And I'll tweet your Web page at my Twitter account, too!

Come on... join in and have some fun!
Return from Cath's Vegetable and Bean Soup Recipe to Healthy Soup Recipes
Return from Cath's Vegetable and Bean Soup Recipe to Healthy Family Eating Home Page