Caffeine in Coffee and Tea
Let us take an interesting look at the caffeine in coffee and tea as well as their sources of caffeine. I won't waste your time beating around the bush, so I'll get right to the point...


Caffeine In Coffee

These are the factors that determine the amount of caffeine in coffee which can vary quite a bit:
The caffeine comes from the coffee bean from which coffee is brewed.
Each kind of coffee bean has a different amount of caffeine in it.
Normally a darker roast coffee has less caffeine than lighter roast. This is because the roasting process destroys some of the caffeine.
The Robusta coffee bean contains more caffeine than Arabica coffee bean variety.
On average, a cup of filter or drip coffee contains about 100mg of caffeine which if consumed every day is enough to lead to withdrawal symptoms such as headache, fatigue, drowsiness and difficulty concentrating when you stop.


Sources of Caffeine in Coffee
Here is a table which shows the average amount of caffeine that each product contains:
| Product | Serving Size | Caffeine Content |
| --- | --- | --- |
| Instant Coffee | 150ml (5fl oz) | 40-105mg |
| Filter Coffee | 150ml (5fl oz) | 110-150mg |
| Espresso, Latte, Cappuccino | 150ml (5fl oz) | 30-50mg |
| Starbucks Coffee (grande) | 350ml (12fl oz) | 500mg |
| Decaf Coffee | 150ml (5fl oz) | 0.3mg |
Decaf Coffee
Decaf coffee still contains small amounts of caffeine – a small cup of decaf contains 0.3mg of caffeine, which is considerably less then regular coffee. It is important to remember that decaf coffee is not caffeine free coffee and drinking many cups of decaf coffee a day would have the same effect as drinking one or two cups of regular coffee.
If you are interested in learning about the various methods of decaffeination, please click on this link.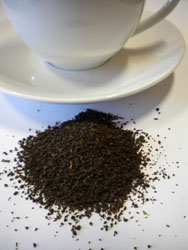 Caffeine In Tea
It is interesting to note that the amount of caffeine in tea varies considerably.
Below is a list of factors that determine the caffeine content:
Caffeine content varies from plant to plant
The length of infusion – the longer the tea brews, the more caffeine it will contain.
Fermentation time – the longer the leaves are fermented, the greater their caffeine content.
Location of leaves – the first and second leaves of the tea plant contain the most caffeine.
The courseness of the leaves – tea bags with broken smaller leaves produce an infusion with more caffeine then loose tea with bigger leaves does.
Sources of Caffeine in Tea
| Product | Serving Size | Infusion Time | Caffeine Content |
| --- | --- | --- | --- |
| Black Tea | 250ml (8fl oz) | 5 minutes | 40-100mg |



I do hope you found this information about the caffeine content in coffee and tea interesting and helpul in your quest for good health. If you have any questions or comments, please contact me as I would love to hear from you.

Return from Caffeine in Coffee and Tea to The Effects of Caffeine

Return from Caffeine in Coffee and Tea to Home Page