Classic Carrot Soup Recipe
This healthy carrot soup recipe is low fat, heart healthy and so simple to make! It's one of those really easy soup recipes that you can have simmering away in no time at all.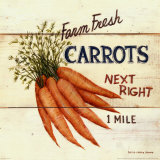 Carrots pack quite a nutrient punch and are incredibly beneficial to heart and overall good health. The health benefits of carrits are many - they are high in fiber and beta carotene as well as many other vitamins and minerals. It also makes our heart healthy foods list! It is great to have a few good carrot recipes handy and this carrot soup is a wonderful winter warmer that I am sure your whole family will love.

Classic Carrot Soup
Ingredients:
500g carrots, coarsely grated or finely chopped
2 onions, finely chopped
4 medium potatoes, coarsely grated or diced
1.75 litres (7c) chicken or vegetable stock - I use a combination of the two.
10ml (2t) fresh parsley, finely chopped
Directions:
1. Put all the ingredients into a pot and bring to the boil.
2. Simmer until the carrots and potatoes are soft – about 30 – 45 minutes depending on how coarsely they were grated or cut.
3. Puree the soup, adding more water if it is too thick, then stir in the parsley.
4. Serve warm and enjoy!.
Would You Like To Be Part Of
This Site?
Why not become part of the Healthy Eating Website! All you do is share your favourite recipes right here!
Your recipe becomes a whole page on this site and part of the healthy eating blog (which shows the site's most recent pages). So become a permanent part of Healthy-Family-Eating.com so others can read, learn and grow from your input! And I'll tweet your Web page at my Twitter account, too!

Come on... join in and have some fun!
Return from this Carrot Soup Recipe page to Healthy Soup Recipes
Find more free healthy recipes!
Return from this page to Healthy Family Eating Home Page