Amazing Lentil Soup Recipe
This lentil soup recipe is so amazing – both in the taste and nutrient department, but the best thing is that it cooks in 15 minutes and my children are crazy about it!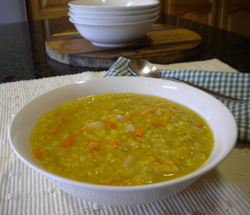 I was a bit sceptical at first about creating this soup recipe because I couldn't imagine any lentil soup being delicious, but I was so amazed at how truly scrumptious this soup is! My children love it – the whole family loves it which is fantastic because it is so incredibly quick and easy to make! It is a wonderful vegetable soup recipe that can be whipped together in thirty minutes and is so incredibly nutritious.
This lentil soup is loaded with antioxidants – especially beta carotene. Lentils are particularly rich in folic acid which is essential for our good health and especially important for pregnant woman and for preventing age-related degenerative diseases.
So, if you were as unsure as I was and can not imagine a lentil soup being delicious, I dare you to give it a try – you will be very pleasantly surprised! This soup also freezes fantastically well.


Amazing Lentil Soup
Ingredients

15ml olive oil
2 onions, sliced
2 garlic cloves, sliced or crushed
3 celery sticks, sliced – with our without tops
5 medium sized carrots, chopped into thin rounds
1 small (about 150g) sweet potato, cubed
400g (2c) red split lentils, rinsed
1.75 litres (7c) vegetable stock
Directions
1. Put the olive oil, onions and garlic into a biggish pot.
2. Sweat the onions and garlic for 2 or 3 minutes.
3. Add the rest of the chopped vegetables, lentils and stock and bring to the boil.
4. Reduce the heat and simmer for 10 – 15 minutes or until the carrots are soft.
5. My children prefer it chunky, but if you like a smooth soup, once cooked, blend until lovely and smooth – or to what ever consistency you prefer.
Would You Like To Be Part Of
This Site?
Why not become part of thie Healthy Eating Website! All you do is tell your foodie story or share your favourite recipe here!
Your recipe or story becomes a whole page on this site and part of the healthy eating blog (which shows the site's most recent pages). So become a permanent part of Healthy-Family-Eating.com so others can read, learn and grow from your input! And I'll tweet your Web page at my Twitter account, too!

Come on... join in and have some fun!
Return from Lentil Soup Recipe to Homemade Soup Recipes
Return from Lentil Soup Recipe to Home Page