Minestrone Soup Recipe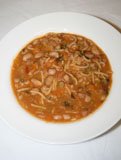 This minestrone soup recipe is deliciously thick and wholesome. It's a wonderfully complete meal-in-a-bowl as it combines all the goodness of vegetable soup and bean soup, giving you all the nutrients you need for great health. The large variety of vegetables used means that it's packed with a really large variety of vitamins and minerals.

Minestrone soup originated in Italy and traditionally contains a variety of vegetable, beans and usually rice or pasta.
This recipe makes a rather large pot full, but it freezes well and I find frozen soup always comes in handy.
Minestrone Soup Recipe:
Serves 8 people
1 packet (500g) dried sugar beans, soaked in hot water for 1 hour
30ml olive oil
2 onions, finely chopped
3 leeks, sliced into rings
4 stalks celery, finely chopped
1 bunch carrots, scraped clean and sliced into rings
4-6 potatoes skinned and cut into pieces
100g green beans
350g cabbage, finely shredded (optional)
15ml (1T) finely chopped garlic
3 litres vegetable stock
5ml (1t) dried basil
1 can (410g) tomatoes, chopped
250g whole wheat spaghetti, broken into smaller pieces
60ml (1/4 c) finely chopped parsley
Salt and freshly ground black pepper to taste
1. Pour off the soaking water for the beans; cover them with clean water and boil until soft, then drain. They may take between 2 - 3 hours to cook.
2. Heat the oil in a large saucepan and fry all the fresh vegetables until glossy. I add a little bit of water and steam fry with the lid on. This method uses less oil and is a much healthier way of cooking.
3. Add the stock and drained beans, cover and simmer slowly for about 20 minutes.
4. Add the dried basil, can of tomatoes, tomato puree and spaghetti and simmer slowly until the spaghetti is cooked and the soup is thick and flavoursome.
5. Add the parsley and season to taste with salt and pepper.
Serve with some crusty rye or whole wheat bread.
Cook's Note:

If you don't have time to cook the dried beans, which could take 2-3 hours, simply add 2 or 3 cans of beans of your choice.
I leave out the cabbage, but that is just a personal preferance...I'm not a fan of cabbage in soup
For a really lovely flavour, I add 200g of lean bacon to the soup which gets fried with the vegetables.
The original idea behind this soup was that you use whatever vegetables are in season, so please feel free to play around with this recipe and use whatever vegetables you wish. I'm sure you'll come up with something wonderful. If you'd like to share your wonderful new discovery or have a favourite bean or vegetable soup recipe you would like to share, please contact me as I would absolutely love to hear from you.

Return from Minestrone Soup Recipe to Healthy Soup Recipes

Return from this page to Healthy Family Eating Home Page