Monounsaturated Fats: Great For Heart Health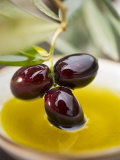 Monounsaturated fats are good fats. They are also known as omega 9 fatty acids of which oleic acid is the main component. It is not an essential fat as the body can make it, provided there are omega 3 and 6 fats present.
These fats which are found in animal and vegetable sources are beneficial to your health, but should be eating in moderation. Olive oil is a great source.
People who follow a Mediterranean diet which is very high in omega 9 fats such as olive oil, tend to have a lower risk of heart disease and stroke. This is because it helps to lower the bad LDL cholesterol level in the blood while raising the good HDL cholesterol level.
Omega 9 fats are typically high in vitamin E which is an antioxidant as well as provide nutrients which help develop and maintain the body's cells.
Health benefits of Omega 9 fat:
Lowers blood cholesterol level which reduces the risk of heart disease and stroke
Helps to keep the arteries supple, reducing the risk of atherosclerosis (hardening of the arteries)
Helps to improve our immunity
Helps reduce the risk of certain cancers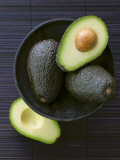 Foods which contain mostly Omega 9s:
Olive oil
Canola oil
Peanut oil
Olives
Peanut butter
Tuna
Mackerel
Salmon
Sardines
Peanuts
Almonds
Hazelnuts
Pecan nuts
Cashew nuts
Pumpkin seeds
Sesame seeds
Avocados
Chicken
Return from Monounsaturated Fats to Good Fats
Return from this page to Healthy Family Eating Home Page